Well, the last few months have been busy!
On 21st June 2018, some colleagues and I walked a sponsored marathon (42km) to support the mental health charity, Mind. Sore feet and achy leg muscles aside, the breathtaking views of the city combined with the fresh summer air filled me with enough delirium inspiration to take things a 'step' further; I was going to walk 5 miles from home to work for all of July, 3 days per week. And I did! 😀
Below are the results! Whoever said numbers were boring?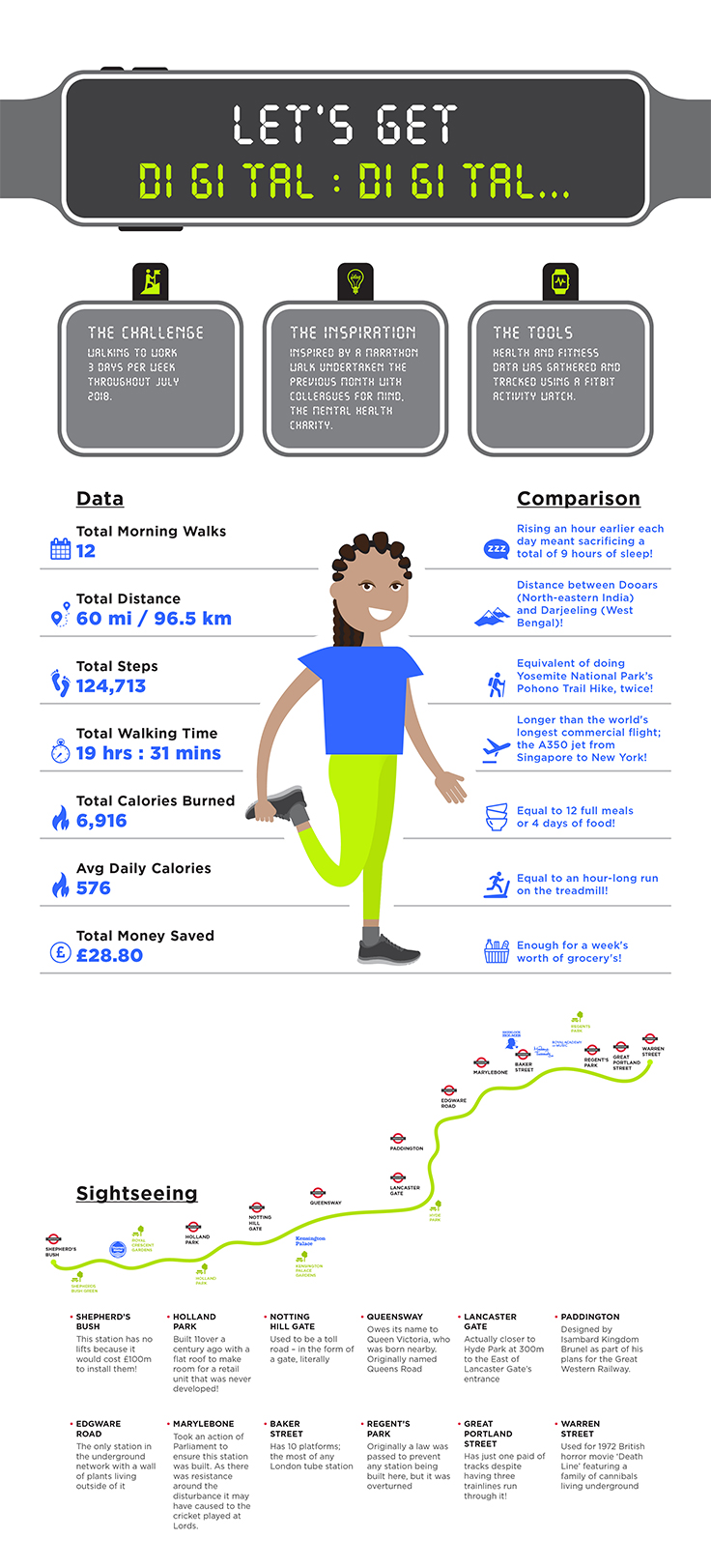 Copy the code below to embed this infographic on your website
---
Things people asked me…
How did you collect the data?
I used a Fitbit activity tracker. A great example of Internet of Things in process. It's pretty accurate for tracking health data such as heart rate and calories burned and syncs up through Bluetooth to any smart device like a phone or computer.
Why would you put yourself through this?
I really enjoyed it! Initially, it was to raise awareness for a great cause, but it's also a great way to ease into your morning and feel energised for the day ahead. I also got to escape the tedious commute on busy public transport during the hottest month of the year to date – Win!
What did you enjoy most about this challenge?
The mindfulness gained from the walk in. I found the quiet mornings really soothing and a great source of motivation. I'm also kind of a coffee fiend, so discovering new spots to get my java was an added bonus.
What did you enjoy least about this challenge?
Getting up an hour earlier to leave enough time for the walk. Especially after a late night the evening before when a lie-in would have been nice. Aside from that, there was honestly nothing I particularly disliked.
Why didn't you walk in every working day (rather than just 3-days)?
The challenge took place across an entire month, but I allowed 2-days off per working week to save room for other activities such as a regular workout. I was also aware of combining the challenge into everyday life; I was factoring in things like meeting friends on workday evenings, which would have massively interfered with the time I had left for a full night's sleep if this were an everyday challenge.
Wasn't it super hot?! How did you cope?
I was setting off pretty early each morning, so before the sun was at its peak. It did get quite hot as July got progressively warmer but it was perfectly bearable. It's surpising how quickly you can adjust to a new routine.
Would you do it again?
In a word, yes. I would totally set a similar challenge that incorporates sightseeing and promotes a healthy start to the day. It has definitely encouraged me to take to the streets over other modes of transport when travelling.
---
I hope you enjoyed this study. What's your latest challenge or inspiration? Share your thoughts below!
Categories: ? Data & analysis ? Digital marketing advice Brand Awareness
Martina
Martina is a Digital Marketing consultant, developing cross-channel techniques since 2010. This blog explores industry developments with real-life application.