Ever cooked lobster? Me neither. It looks ridiculously intimidating. However, if you can master it, lobster is one of those dishes that makes a meal extremely noteworthy – and is probably why it's the most expensive thing on most menus!
Email is the same. It's tantamount to effective marketing when executed properly and can yield great results – get it wrong though, and pay the price.
So, in honour of just how much I'm thinking about food right now, I present to you:
Five Reasons Email is a ̶P̶I̶T̶A̶, lobster!
1) Read receipts!
I get it – you want me to know you've read my email. You want to instil confidence in me as a fellow colleague or client. The issue here is that we email often, daily, sometimes by the minute! And now, if a crowded inbox from our actual correspondence wasn't enough, I'm also getting by-the-second reiterations of your acknowledgement…
2) Out of Office auto-responders!
You're away, which is already annoying because I can't instantly reach you at the click of a button, and to let me know how away you are, you've set up a cute little message to let me know – with no contact details of a fellow colleague or at least the company switchboard?
3) The "sign off" (same-day emails)!
Email one is an introduction, so we both add our names to the end of the email.
Email two, we know who each-other are, but it's still early days, so names again is totally acceptable.
Email three – your from-name and email address are familiar enough now that adding your name is unnecessary, but still polite.
Email four. If we've back-n-forthed four times and I'm still unsure who you are, I'm definitely in a Christopher Nolan movie… We can totally drop names at this point.
Email five – pedantic.
4) Personalisation!
Personalisation is brilliant when used sensibly. Greeting me on a first name basis? Aw, I feel special!
Until this: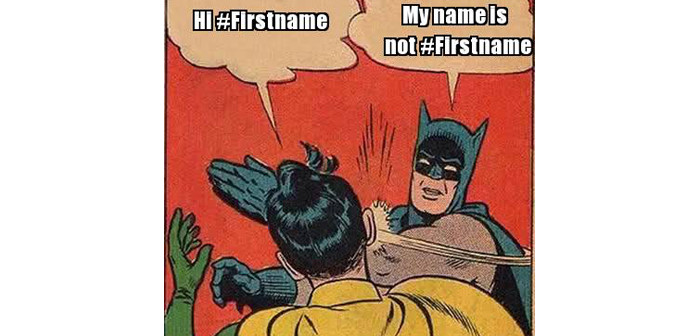 Be it lower-case nouns, misspellings, nicknames or similar, using something other than my actual name (when you clearly intended to use my actual name) looks, lazy & robotic.
5) The "BCC"
On one hand, including your boss in an important email exchange is handy, especially if the main recipient is tricky. On the other hand, the BCC implies its user has serious trust issues. Why not just CC? Who else is watching?
And because emails will always be a thing, this post is to be continued…
Can you think of any more?
Categories: ? Email marketing advice
Martina
Martina is a Digital Marketing consultant, developing cross-channel techniques since 2010. This blog explores industry developments with real-life application.